"Mary Magdalene would never let her loved ones down."
- FKA twigs (2019)
FKA twigs has been all out in the art history reference game recently and I am here for it. Earlier this year, she performed "Cellophane" at the Wallace Collection, rocking attire with direct reference to the collection's works, such as the Vivianne Westood François Boucher corset.
"Portrait of a Lady with an Orange" by Caspar Netscher at the Wallace Collection (1681) vs FKA twigs in Avantgarden at the Wallace Collection (2019)
Picasso-esque harlequins have been making a curious appearance on her social media.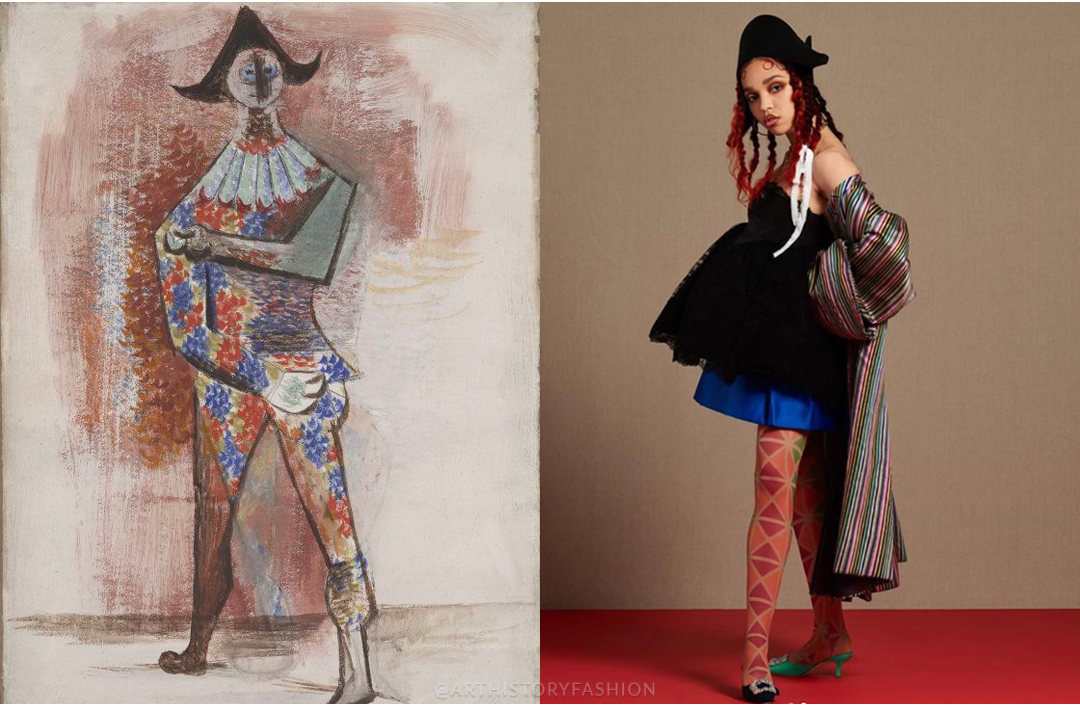 "Harlequin" by Pablo Picasso (1917) vs FKA twigs, photographed by Matthew Stone (2019)
"Seated Harlequin with Guitar" by Pablo Picasso (1916) vs FKA twigs, photographed by Mahaneela (2019)
"Seated Harlequin" by Pablo Picasso (1923) vs FKA twigs in a Vivienne Westwood harlequin jacket, photographed by Matthew Stone (2019)
She just dropped her self-directed music video "home with you" and I couldn't help but point out the wonderful art history symbolism.
The video starts with the artist partying in a dim basement wearing a punk baroque gown, sickly lights pulsating, bodies gyrating, vacant eyes gazing…it then ends with her running through a forest in a Handmaid's Tale-inspired white dress. A stark transformation, unsurprising given the title of the album: "Magdalene".
If you'd like an in-depth read on who Mary Magdalene was, I suggest this article by the Smithsonian. It's a long read, but gives you a sense of how history has warped her legacy.
Let's dive into some art.
Mary Magdalene's dress
Mary Magdalene has been portrayed in many ways throughout art history — penitent, shameful, defensive. A marked prostitute, a femme fatale, a devoted lover. A sinner, a saint. She's an enigmatic figure where her depiction reflects more about society at the time than her character as an actual person. Layered with symbolism and redefined over the course of centuries by those powerful enough to write history (looking at you Pope Gregory I), it's no wonder she continues to conjure up fiercely incongruent narratives in our imagination.

From the Middle Ages to the Renaissance, Mary Magdalene was often portrayed as a wealthy woman adorned in lush, beautifully embroidered garments. You can find her wearing a combination of red, blue and gold, though it is important to note that these colors were not exclusively assigned to her. The colors could be imbued with coded meanings, but that depended on the local culture and period, so by no means are they universal. For example, during the Renaissance, many prostitutes in Italy were required by law to wear yellow, which why Artemisia Gentileschi painted Mary Magdalene like this: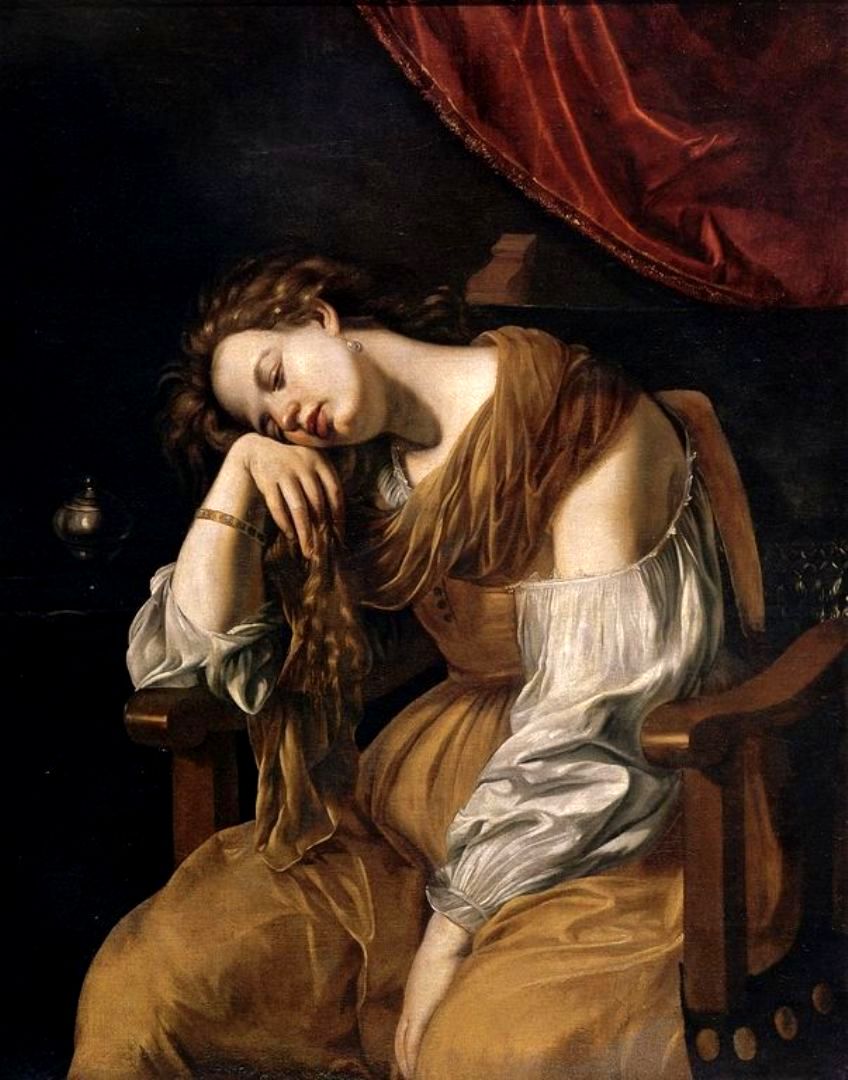 "Penitant Magdalene" by Artemisia Gentileschi (1625)
The dress that FKA twigs dons in the first half of the video is a striking reinterpretation of the color schemes and style we see in many paintings of Magdalene.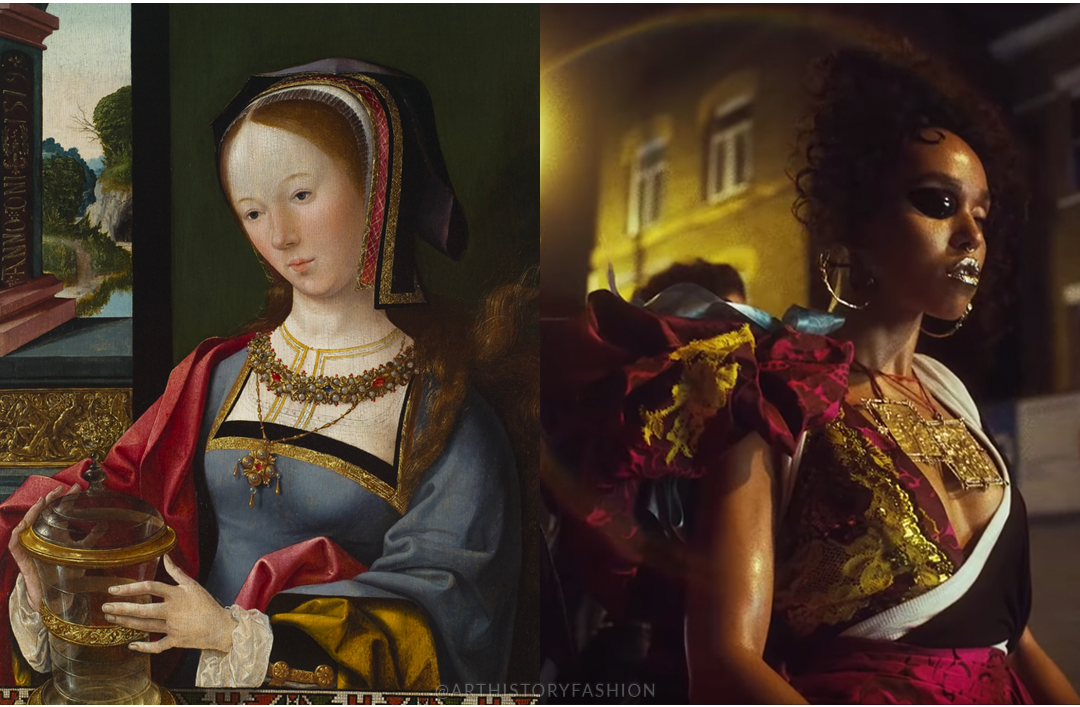 "Mary Magdalene" by Jacob Cornelisz van Oostsanen (1519) vs FKA twigs in "home for you" (2019)
The regal, puffy sleeves, the rich colors, and the playful combination of textures all at once feels rich and raggedy — you'll see that paradox is one theme FKA twigs loves to play up over and over again.
Ed Marler, the designer responsible for twig's outfits in "Cellophane" and her Magdalene tour, often takes inspiration from ornate art of the past. Check out this Medieval tapestry-inspired custom dress (complete with chain mail) for the VMAs: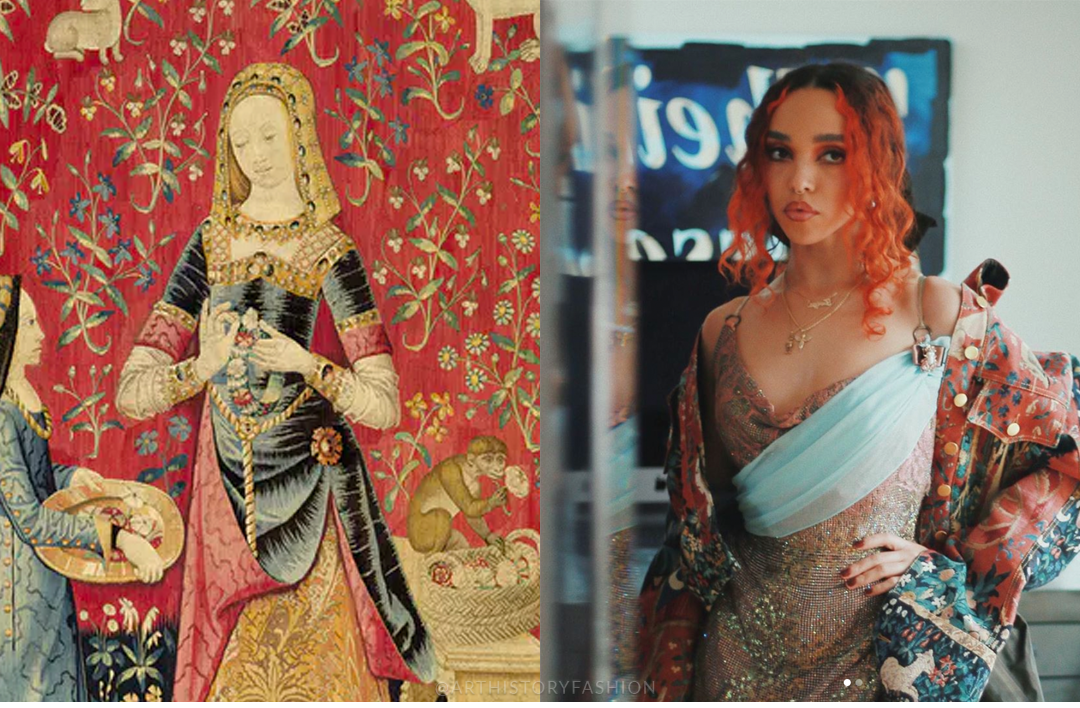 "Smell" from The Lady and the Unicorn series (1500) vs FKA twigs wearing Ed Marler at the VMAs (2019)
Who knew that unicorn tapestry could be made contemporary and fashionable? So good.
Blurring the icons
So we see twigs leave the basement party and enter a convertible for some surreal choreography with her fellow passengers. At one point, they hit this pose:
"The Virgin" by Gustav Klimt (1913) vs FKA twigs in "home with you" (2019)
I immediately got strong Gustav Klimt vibes from this shot, specifically "The Virgin". Given the painting's theme of sexual awakening and Mary Magdalene's association with sinful female sexuality, "The Virgin" wouldn't be too far fetched of a reference. twigs has also called herself the "virgin whore" on social media and if the Klimt reference is intentional, then she's cast herself as both the virgin and the whore in this video. Add in the psychedelic aura that surrounds both instances…well, if it's not intentional, then it's a remarkable coincidence.
Night turns to day and the video abruptly cuts to twigs in all white in the countryside. Cue the Pietà.
"Pietà" by Michelangelo (1499) vs FKA twigs in "home with you" (2019)
Pietà is typically a representation of the lamenting Virgin Mary cradling a dead Christ in her arms, a visual theme that first appeared in 14th century Germany. Like so, twigs is crumpled at the bottom of an older woman's feet. While Pietà is at its core a theme of sorrow, it can at times also convey the strength and grace of the Virgin Mary.
Ok but hold up, the album is called "Magdalene", so why is twigs referencing herself as Christ?
FKA twigs said of Mary Magdalene: "I didn't look at her as a character, a person in the Bible…It was more looking at her as a woman and what she represented, what her archetype was, what was her true story, how was it manipulated, how does that relate to the matriarchy in general, and how that story is manipulated."
She hints at approaching Magdalene as an icon of transformation and female strength, the legacy of a devoted woman unwittingly cast as a "whore" by the sin-obsessed Western world. Her "truth" is convoluted and muddled. While the more recent view of Magdalene may be unsympathetic, she was once a character who was loved and provided hope for being freed from sin, much like Christ. The act of blurring and taking advantage of visually iconic moments in religion allows for twigs to connect Magdalene — and herself — to the hopeful narrative of redemption, both spiritual and physical.
Items that represent Mary Magdalene
Other subtle cues to Magdalene include the pearl earring: pearls symbolize Mary Magdalene's tears.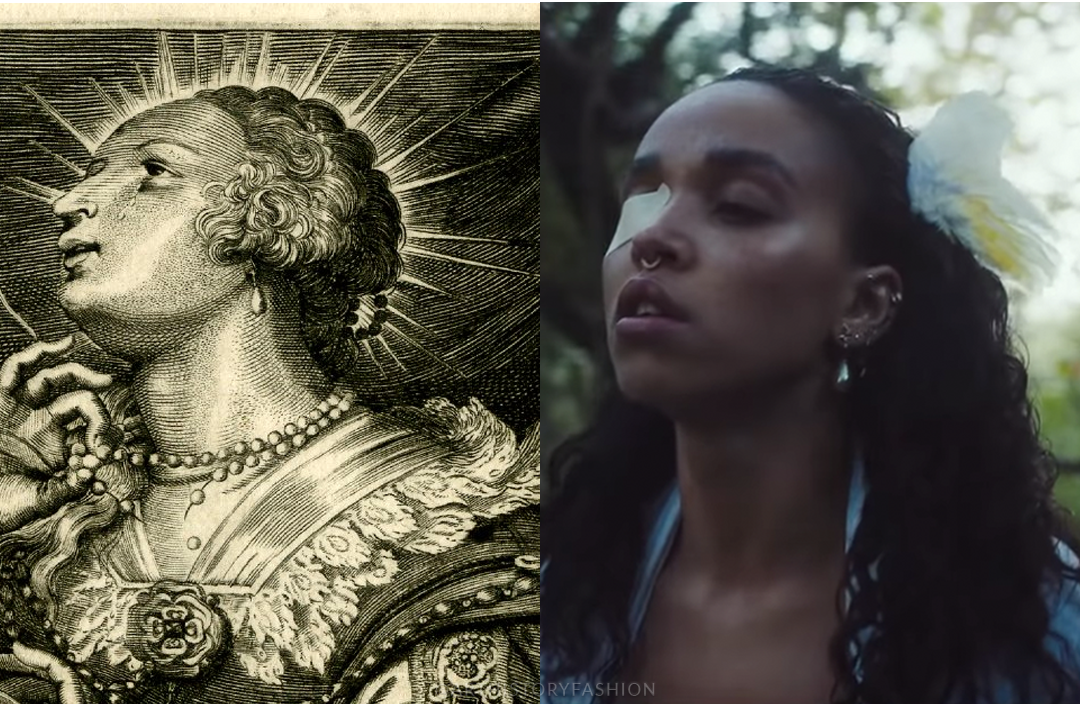 "Vélins" after Rubens (1600-1659) vs FKA twigs in "home with you" (2019)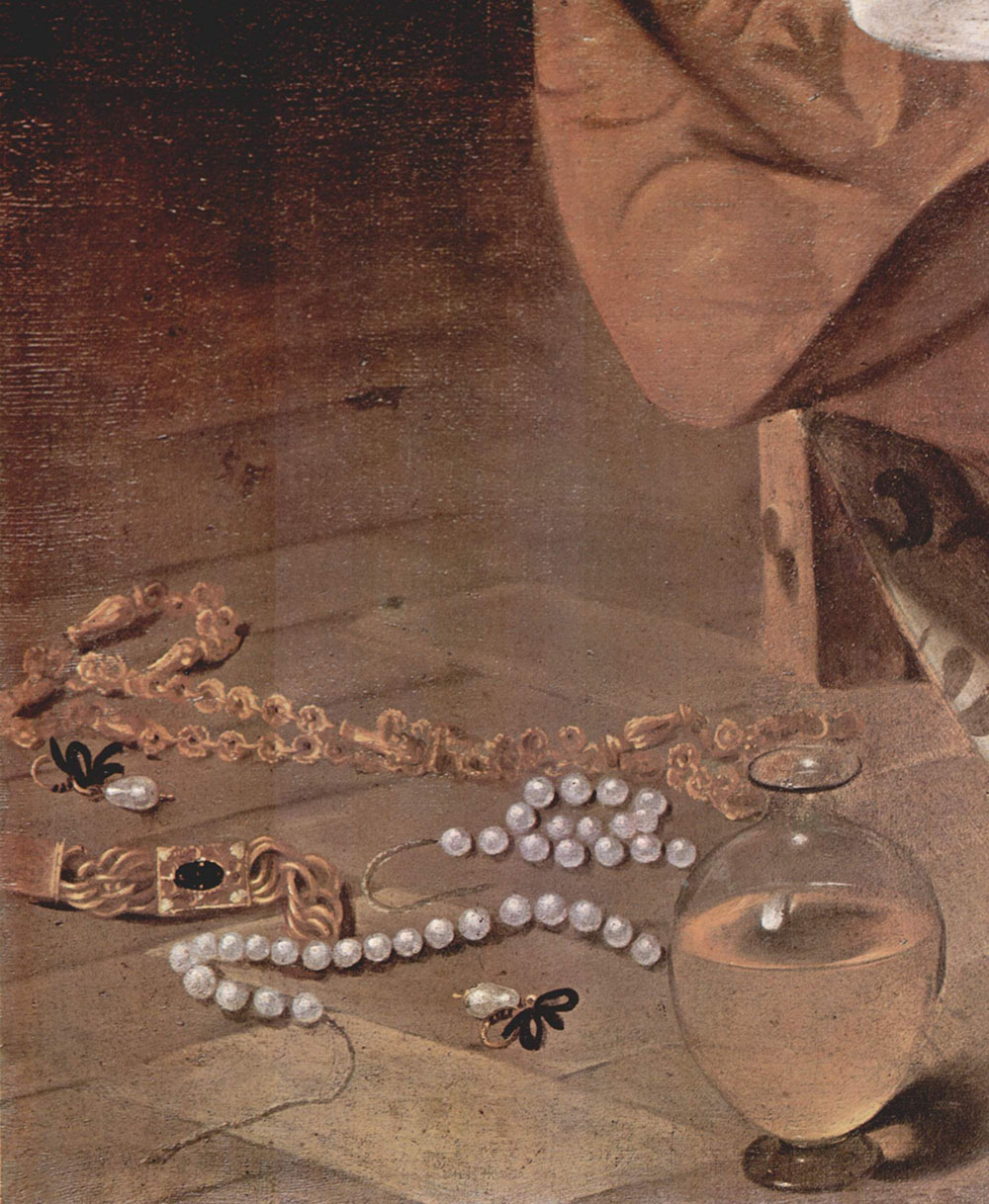 Detail of "Penitant Mary Magdalene" by Caravaggio (1597)
"Penitant Magdalene" by Artemisia Gentileschi (1625) vs FKA twigs photographed by Mahaneela (2019)
"Cellophane" also opens up with literal pearl tears, again made by Ed Marler.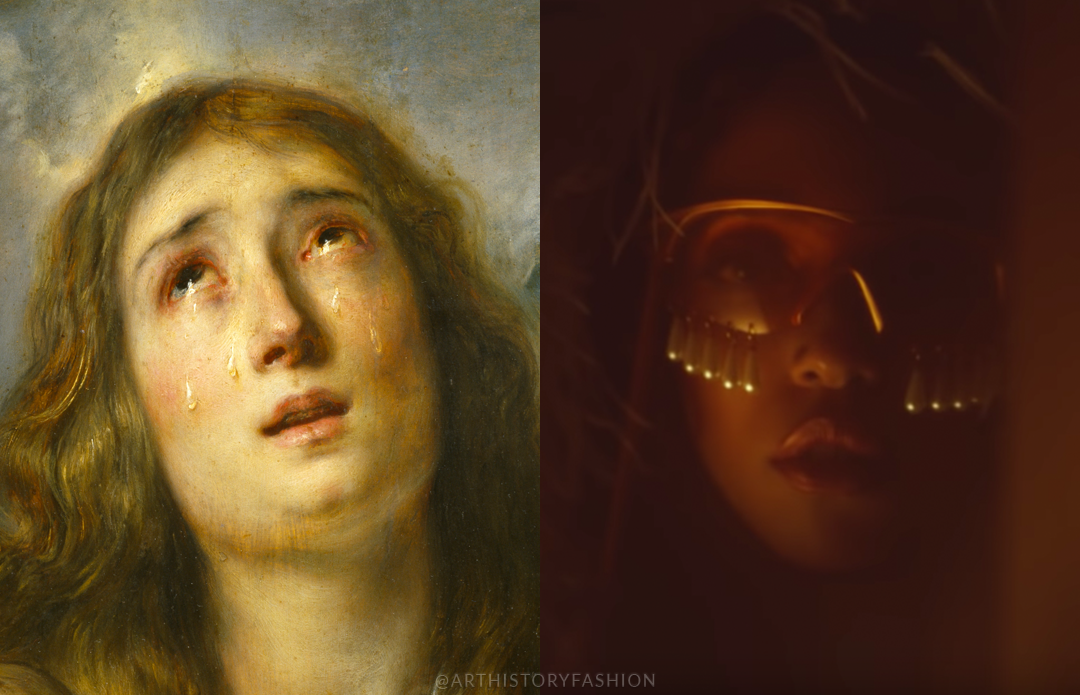 "Mary Magdalene" by Jan Boeckhorst (1650) vs FKA twigs in "Cellophane" (2019)
Another obvious symbol in her album promotion includes the Byzantine red egg, a reference to the legend that an egg turned red in Magdalene's hand after she was told by Emperor Tiberius that no one could be resurrected from the dead.
Icon of Mary Magdalene vs FKA twigs Magdalene promo (2019)
I love twig's artistic takes on Magdalene's icons without being too overbearing. I wouldn't expect to see her embodying the literal biography of Mary Magdalene in her upcoming works, but I'm sure we'll see some more subtle nods here and there. Looking back at another Magdalene song, "Cellophane" beautifully chronicles another dramatic transformation — twigs opens up with a sensual pole dance performance, ascending into the heavens, only to plummet through the earth to the literal rock bottom of a cavern. Again, we're seeing the dichotomy between the "sinned" and the "reformed". What makes Magdalene so fascinating is that by tracing her visual representation, you can see the cultural projection of the perception and expectation of women. FKA twigs is another artist who's adapting Mary Magdalene's narrative to tell her own personal story of vulnerability and redemption, of love and strength, of perception and truth.
One thing I can't figure out — the gold plates on her necklace. 1) What do they show and 2) Why is one flipped over once she enters daylight? Let me know if you have any ideas.